New Smyrna Beach, Volusia County
New Smyrna Beach is a city in Volusia County, Florida. The city is located at 29°1'33"N and 80°55'37"W. According to the United States Census Bureau, the city population was 23,658 persons. As of the last census, the median income for a household in the city was $52,261. Please visit the city page at my website and you'll be able to see all real estate data and detailed New Smyrna Beach statistic.
know more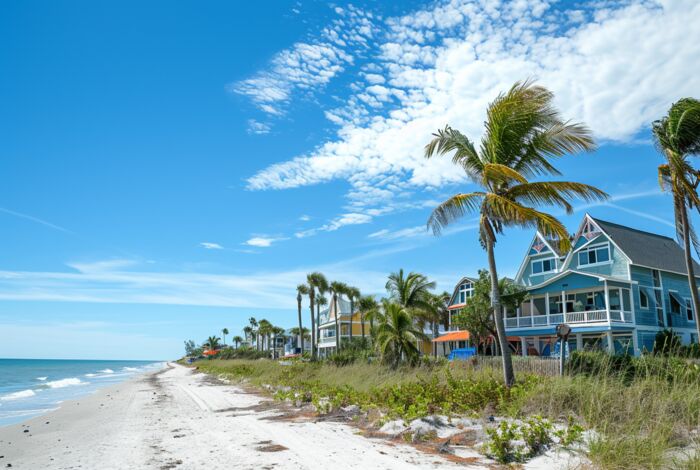 What's trending now in the market
WeWork in talks to sell off Managed by Q to free...

by

By Rich Bockmann

on 2019-12-11 at 6:00 PM

WeWork is in talks to the sell the biggest acquisition it made in its free-spending days. The co-working company is in discussions to sell the workplace management company Managed by Q to a group including one of the company's co-founders, Bloomberg reported. It's one of three companies WeWork put on the chopping block as it looks to cut costs. Co-founder and former chairman Dan Teran […]

Integra scores $68M refi for Artsquare at...

by

By Keith Larsen

on 2019-12-11 at 5:30 PM

One of Hallandale Beach's largest apartment complexes scored a $67.6 million loan. Integra Investments secured the refinancing for Artsquare at Hallandale Beach from Hunt Real Estate Capital. Artsquare is a 358-unit, Class-A project at 401 North Federal Highway that was completed in 2018. The project has six buildings and sits on a 2.7-acre parcel. In addition, the property features six […]

The $2.5B plan to lure millennials into new houses

by

By Katherine Kallergis

on 2019-12-11 at 4:30 PM

A development team has a $2.5 billion plan to lure millennials — and some Gen Xers — out of amenity-filled apartments and into thousands of new houses across the country. Miami-based Partners Global City Development and Brazil-based Leste investment management firm want to construct 10,000 new houses and townhomes in the build-to-rent space, The Real Deal has learned. The plan is on […]
Have You Outgrown Your Home?

by

Shannah Ferrante

on 2019-12-11 at 6:00 AM

It may seem hard to imagine that the home you're in today – whether it's your starter home or just one you've fallen in love with along the way – might not be your forever home. The good news is, it's okay to admit if your house no longer fits your needs. According to the

A 365 Day Difference in Homeownership

by

Shannah Ferrante

on 2019-12-10 at 6:00 AM

Over the past year, mortgage rates have fallen more than a full percentage point. This is a great driver for homeownership, as today's low rates provide consumers with some significant benefits. Here's a look at three of them: Refinance: If you already own a home, you may want to decide if you're going to refinance.

Have You Budgeted for Closing Costs?

by

Shannah Ferrante

on 2019-12-09 at 6:00 AM

Saving for a down payment is a key step in the homebuying process, and it's not the only piece you need to include in your budget. Another factor that's important to plan for is the closing costs required to obtain a mortgage. What Are Closing Costs? According to Trulia, "When you close on a home, a
I know everything about Real Estate. Contact Me!
Marisa Gillman-Denton, BROKER
1st Global Realty of Florida
340 S Beach St, Suite 120, Daytona Beach, Florida 32114
#YouDescribeItWeWillFindIt
"With Passion and Dedication I will find you the Perfect Home!"
Marisa Gillman-Denton
(386) 957-4388

1stglobalrealtyofflorida@gmail.com
Passionate about finding the perfect home for every client , her extensive International experience and knowledge of different cultures and the needs of families, retirees and people wanting to relocate , allied with her CIPS (Certified International Property Specialist ) and RSPS (Resort & Second Home

…

Read More

Property Specialist) Realtor qualifications , she is committed to her mantra of . "With Passion and Dedication I will find you the Perfect Home ! "
Marisa was born in the UK to a German father and English mother , educated in England and Switzerland, and spent her early career in Hospitality and Hotel and Resort Management in the UK, Europe, the Caribbean and Africa . In Africa she changed career direction and became one of the Top 15 managers in Africa for Tupperware. Relocated to the USA in 2007 and has since become committed to success in the Real Estate field of business. Marisa is the proud Owner/Broker of 1st Global Realty of Florida.
Marisa is also a proud mother of three daughters and grandmother to 5 girls and 2 boys and has been married to John for 33 years.

Close
Judy Visnic
(386) 846-5839

JudyVisnic@live.com
I have been a licensed and full time Realtor® for 23 years, working in an office that is extremely active in the REO market.
I am knowledgeable of the area and local Real Estate Market trends, and am Pro-active in marketing and moving property

…

Read More

. I, too, work with investors who often have a "ready pool" of funds to purchase these types of investments.
PRO-ACTIVE AND PROFESSIONAL, I DO MY WORK, KEEP MY WORD, AND KEEP MY CUSTOMERS HAPPY.

Close
Shilu Dodani
(386) 451-2941

SrDodani@yahoo.com
Born in India and raised in the UK, Shilu first came to Florida in the late 1970's and put down her roots in Daytona Beach. She had her children here and considers Daytona her home. Shilu's background is in sales, so she knows how to listen to her clients and give them what they are looking for.
Patsy Smith Wyant
(386) 846-5038

Patsy@PatsySmithWyant.com
REAL ESTATE DESIGNATIONS
CIPS, GRI, AHWD, RSPS, MRP, TRC
CAREER PROFILE & ACHIEVEMENTS
• Awarded the Daytona Beach Area Association of Realtors Honor Society 2008-2019
• Awarded the Florida Realtors Association Honor Society 2009-2018
• Awarded NAR REALTORS Own It Coin in 2018 which

…

Read More

represents appreciation as leaders committed to serve
• Awarded Small Business of the Year by US Ambassador in The Gambia, West Africa 1998

PROFESSIONAL EXPERIENCE
Licensed Florida Realtor – 1996 – Present
Member of National Association of Realtors, Daytona Beach Area Association, Florida Realtors Association, and the International Consortium of Real Estate Associations
Manager – Across Borders School of Real Estate – 2008 – Present
Coordinated NAR and REBAC classes in 8 countries, 6 states, and 33 Associations
Attended, consulted, and delivered presentations to real estate agents and Realtor attendees in Thailand, Greece, Slovakia, Manila, Malaysia, Jamaica, Costa Rica, Dubai, and United States.
Realtor – 1st Global Realty (2019) Wyant Realty International (2001-2019) Ormond Beach, FL
Sales and property management of Intracostal and oceanfront luxury properties–homes and commercial properties.

COMMITTEES
National Association of Realtors
Global Business and Alliance Committee – 2019, 2018, 2016
CIPS Advisory Committee – 2017
Daytona Beach Area Association of Realtors
Board of Directors– 2008-2010
International Council 2008-2017 Founder and Chairman
Education Committee 2006-2012 Chairman and Vice Chairman
Professional Standards – 2010 – 2012
Grievance Committee – 2012 – 2016
Florida Realtor Association
Global Business & Alliance Committee – 10 Years
Global Networking Forum – 9 years
Resort and 2nd Home Committee – 4 Years
Professional Development Committee – 2 years
Faculty Development Sub Committee – 3 years

EDUCATION
University of Kentucky – 1974 -1978, Eastern Kentucky University – 1974, Cumberland College – 1973

Close