New Smyrna Beach, Volusia County
New Smyrna Beach is a city in Volusia County, Florida. The city is located at 29°1'33"N and 80°55'37"W. According to the United States Census Bureau, the city population was 23,658 persons. As of the last census, the median income for a household in the city was $52,261. Please visit the city page at my website and you'll be able to see all real estate data and detailed New Smyrna Beach statistic.
know more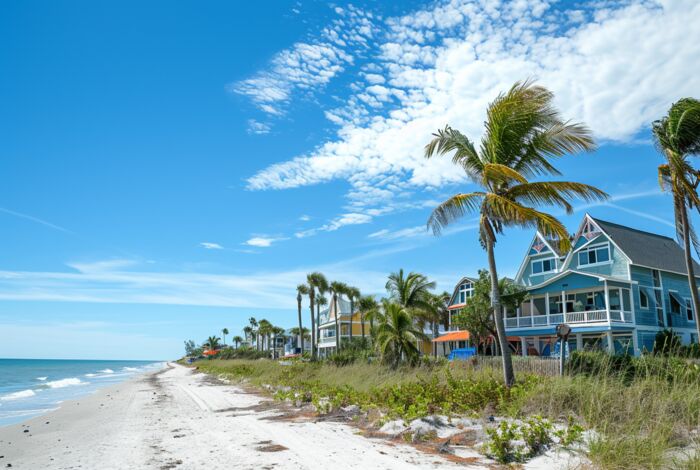 What's trending now in the market
Airbnb sues Newgard, alleges Harvey Hernandez...

by

By Keith Larsen

on 2020-01-24 at 7:00 PM

Airbnb accuses Miami real estate developer Harvey Hernandez of defrauding the short-term rental company and diverting funds that were to be used for an apartment-sharing concept. Airbnb claims it invested $11 million in a partnership with Hernandez's Newgard Development Group to offer Airbnb-branded apartments. Newgard was supposed to open at least seven of these projects, including in one […]

Forever 21's biggest landlord could become its...

by

TRD Staff

on 2020-01-24 at 6:10 PM

Last summer, struggling fast-fashion retailer Forever 21 reportedly reached out to its landlords to ask for investment in the company. Now, with bankruptcy proceedings well underway, one landlord might be ready to take up that offer. Simon Property Group is considering a bid to acquire Forever 21 as it teeters on the edge of liquidation, Bloomberg reported. The Indianapolis-based mall owner would […]

The mortgage industry is booming

by

By Keith Larsen

on 2020-01-24 at 6:00 PM

Now sure is a great time to be a mortgage lender – they issued $2.4 trillion in home loans last year, which was the most since 2006. In fact, the $2.4 trillion was a 46 percent increase from 2018, according to industry research group Inside Mortgage Finance. Many homeowners are looking to refinance their mortgages after the Federal Reserve lowered interest rates three times last year. […]
2020 Homebuying Checklist

by

Caety James

on 2020-01-24 at 6:00 AM

Some Highlights: If you're thinking of buying a home, plan ahead and stay on the right track, starting with pre-approval. Being proactive about the homebuying process will help set you up for success in each step. Make sure to work with a trusted real estate professional along the way, to help guide you through the homebuying steps specific to your area.

The #1 Reason It Is Difficult to Find Your Dream...

by

Caety James

on 2020-01-23 at 6:00 AM

The headlines in real estate today all revolve around one major point: there is a shortage of homes available for sale. Price appreciation is accelerating again because there is a shortage of homes available for sale. First-time buyers are taking longer to purchase a home because there is a shortage of homes available for sale

How Buyers Can Win By Downsizing in 2020

by

Caety James

on 2020-01-22 at 6:00 AM

Home values have been increasing for 93 consecutive months, according to the National Association of Realtors. If you're a homeowner, particularly one looking to downsize your living space, that's great news, as you've likely built significant equity in your home. Here's some more good news: mortgage rates are expected to remain low throughout 2020 at
I know everything about Real Estate. Contact Me!
Marisa Gillman-Denton, BROKER
1st Global Realty of Florida
340 S Beach St, Suite 120, Daytona Beach, Florida 32114
#YouDescribeItWeWillFindIt
"With Passion and Dedication I will find you the Perfect Home!"
Marisa Gillman-Denton
(386) 957-4388

1stglobalrealtyofflorida@gmail.com
Passionate about finding the perfect home for every client , her extensive International experience and knowledge of different cultures and the needs of families, retirees and people wanting to relocate , allied with her CIPS (Certified International Property Specialist ) and RSPS (Resort & Second Home

…

Read More

Property Specialist) Realtor qualifications , she is committed to her mantra of . "With Passion and Dedication I will find you the Perfect Home ! "
Marisa was born in the UK to a German father and English mother , educated in England and Switzerland, and spent her early career in Hospitality and Hotel and Resort Management in the UK, Europe, the Caribbean and Africa . In Africa she changed career direction and became one of the Top 15 managers in Africa for Tupperware. Relocated to the USA in 2007 and has since become committed to success in the Real Estate field of business. Marisa is the proud Owner/Broker of 1st Global Realty of Florida.
Marisa is also a proud mother of three daughters and grandmother to 5 girls and 2 boys and has been married to John for 33 years.

Close
Judy Visnic
(386) 846-5839

JudyVisnic@live.com
I have been a licensed and full time Realtor® for 23 years, working in an office that is extremely active in the REO market.
I am knowledgeable of the area and local Real Estate Market trends, and am Pro-active in marketing and moving property

…

Read More

. I, too, work with investors who often have a "ready pool" of funds to purchase these types of investments.
PRO-ACTIVE AND PROFESSIONAL, I DO MY WORK, KEEP MY WORD, AND KEEP MY CUSTOMERS HAPPY.

Close
Shilu Dodani
(386) 451-2941

SrDodani@yahoo.com
Born in India and raised in the UK, Shilu first came to Florida in the late 1970's and put down her roots in Daytona Beach. She had her children here and considers Daytona her home. Shilu's background is in sales, so she knows how to listen to her clients and give them what they are looking for.
Patsy Smith Wyant
(386) 846-5038

Patsy@PatsySmithWyant.com
REAL ESTATE DESIGNATIONS
CIPS, GRI, AHWD, RSPS, MRP, TRC
CAREER PROFILE & ACHIEVEMENTS
• Awarded the Daytona Beach Area Association of Realtors Honor Society 2008-2019
• Awarded the Florida Realtors Association Honor Society 2009-2018
• Awarded NAR REALTORS Own It Coin in 2018 which

…

Read More

represents appreciation as leaders committed to serve
• Awarded Small Business of the Year by US Ambassador in The Gambia, West Africa 1998

PROFESSIONAL EXPERIENCE
Licensed Florida Realtor – 1996 – Present
Member of National Association of Realtors, Daytona Beach Area Association, Florida Realtors Association, and the International Consortium of Real Estate Associations
Manager – Across Borders School of Real Estate – 2008 – Present
Coordinated NAR and REBAC classes in 8 countries, 6 states, and 33 Associations
Attended, consulted, and delivered presentations to real estate agents and Realtor attendees in Thailand, Greece, Slovakia, Manila, Malaysia, Jamaica, Costa Rica, Dubai, and United States.
Realtor – 1st Global Realty (2019) Wyant Realty International (2001-2019) Ormond Beach, FL
Sales and property management of Intracostal and oceanfront luxury properties–homes and commercial properties.

COMMITTEES
National Association of Realtors
Global Business and Alliance Committee – 2019, 2018, 2016
CIPS Advisory Committee – 2017
Daytona Beach Area Association of Realtors
Board of Directors– 2008-2010
International Council 2008-2017 Founder and Chairman
Education Committee 2006-2012 Chairman and Vice Chairman
Professional Standards – 2010 – 2012
Grievance Committee – 2012 – 2016
Florida Realtor Association
Global Business & Alliance Committee – 10 Years
Global Networking Forum – 9 years
Resort and 2nd Home Committee – 4 Years
Professional Development Committee – 2 years
Faculty Development Sub Committee – 3 years

EDUCATION
University of Kentucky – 1974 -1978, Eastern Kentucky University – 1974, Cumberland College – 1973

Close