New Smyrna Beach, Volusia County
New Smyrna Beach is a city in Volusia County, Florida. The city is located at 29°1'33"N and 80°55'37"W. According to the United States Census Bureau, the city population was 23,658 persons. As of the last census, the median income for a household in the city was $52,261. Please visit the city page at my website and you'll be able to see all real estate data and detailed New Smyrna Beach statistic.
know more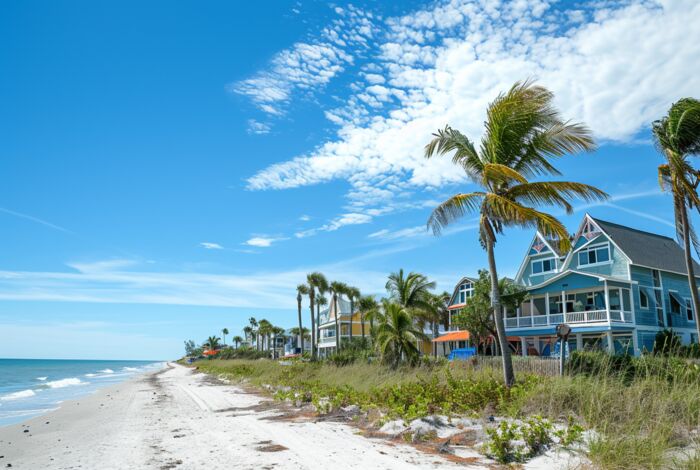 What's trending now in the market
Corcoran says "criminal" hackers leaked agent...

by

Kevin Rebong

on 2019-09-13 at 6:16 PM

The Corcoran Group said it was hacked Friday after a stunning email containing agent splits, marketing budgets and gross commission income was sent to the entire company. Sources said the email came from Bill Cunningham, Corcoran's president of sales. It landed in inboxes in mid-afternoon before being quickly retracted — but not before news of the breach ricocheted through the […]

Homebuilder Toll Brothers adds to portfolio aimed...

by

Gregory Prosser

on 2019-09-13 at 5:30 PM

Toll Brothers is continuing to bet big on western Palm Beach County, adding another development to its portfolio at a massive housing community aimed at older adults. The Pennsylvania-based homebuilder paid $31 million for a property it intends to develop into 469 single-family houses in an active adult community in Palm Beach Gardens. Toll Brothers bought the property from the development group […]

Carl Icahn is moving his firm from NY to Miami,...

by

Kevin Rebong

on 2019-09-13 at 5:00 PM

Every day, The Real Deal rounds up South Florida's biggest real estate news, from breaking news and scoops to announcements and deals. We update this page throughout the day. Please send any tips or deals to tips@therealdeal.com This page was last updated at 5:00 p.m. Carl Icahn's decision to relocate his firm from N.Y. to Miami could be SALT-related. The billionaire investor and […]
6 Graphs Showing the Strength of the Current...

by

simplify

on 2019-09-13 at 6:00 AM

Some Highlights: Keeping an eye on the current status of the housing market is one of the best ways to make powerful and confident decisions when buying or selling a home. Mortgage rates remaining near historic lows and houses selling in an average of only 29 days are just two key elements driving the strength of today's market. With the national data shown here, make sure to also […]

What Is the Probability That Home Values Sink?

by

simplify

on 2019-09-12 at 6:00 AM

With the current uncertainty about the economy triggered by a potential trade war, some people are waiting to purchase their first home or move-up to their dream house because they think or hope home prices will drop over the next few years. However, the experts disagree with this perspective. Here is a table showing the

Millennial Buying Power Poised to Boost...

by

simplify

on 2019-09-11 at 6:00 AM

In a recent article by Realtor Magazine, Mark Fleming, Chief Economist of First American Financial Corporation, notes, "The largest group of millennials by birth year will turn 30 in 2020, which puts them entering their prime homebuying years". The article continues to describe how millennials have more buying-power than the generations that preceded them, making
Empire Visuals uses drones to aid realtors - The...

on 2019-09-15 at 9:13 PM

Empire Visuals uses drones to aid realtors The Brown and WhiteOver the summer, Steven Gerazounis, '21, and his friends started Empire Visuals, a Long Island-based venture that does photography for real estate agents.

Virginia Persecutes Christian Realtor Over...

on 2019-09-15 at 3:21 PM

Virginia Persecutes Christian Realtor Over "Jesus Loves You" The New AmericanUnder the guise of combating "discrimination," a rogue government body in Virginia is brazenly persecuting and discriminating against a Christian real-estate ...

$250 million ranch of billionaire T. Boone...

on 2019-09-15 at 2:00 PM

$250 million ranch of billionaire T. Boone Pickens for sale by Lubbock realtor KLBK | KAMC | EverythingLubbock.comLUBBOCK, Texas — The sprawling ranch of the late T. Boone Pickens is for sale by a Lubbock native with a close relationship to the billionaire oil magnate.
I know everything about Real Estate. Contact Me!
Marisa Gillman-Denton, BROKER
1st Global Realty of Florida
340 S Beach St, Suite 120, Daytona Beach, Florida 32114
#YouDescribeItWeWillFindIt
"With Passion and Dedication I will find you the Perfect Home!"
Marisa Gillman-Denton
(386) 957-4388

1stglobalrealtyofflorida@gmail.com
Passionate about finding the perfect home for every client , her extensive International experience and knowledge of different cultures and the needs of families, retirees and people wanting to relocate , allied with her CIPS (Certified International Property Specialist ) and RSPS (Resort & Second Home

…

Read More

Property Specialist) Realtor qualifications , she is committed to her mantra of . "With Passion and Dedication I will find you the Perfect Home ! "
Marisa was born in the UK to a German father and English mother , educated in England and Switzerland, and spent her early career in Hospitality and Hotel and Resort Management in the UK, Europe, the Caribbean and Africa . In Africa she changed career direction and became one of the Top 15 managers in Africa for Tupperware. Relocated to the USA in 2007 and has since become committed to success in the Real Estate field of business. Marisa is the proud Owner/Broker of 1st Global Realty of Florida.
Marisa is also a proud mother of three daughters and grandmother to 5 girls and 2 boys and has been married to John for 33 years.

Close
Judy Visnic
(386) 846-5839

JudyVisnic@live.com
I have been a licensed and full time Realtor® for 23 years, working in an office that is extremely active in the REO market.
I am knowledgeable of the area and local Real Estate Market trends, and am Pro-active in marketing and moving property

…

Read More

. I, too, work with investors who often have a "ready pool" of funds to purchase these types of investments.
PRO-ACTIVE AND PROFESSIONAL, I DO MY WORK, KEEP MY WORD, AND KEEP MY CUSTOMERS HAPPY.

Close
Shilu Dodani
(386) 451-2941

SrDodani@yahoo.com
Born in India and raised in the UK, Shilu first came to Florida in the late 1970's and put down her roots in Daytona Beach. She had her children here and considers Daytona her home. Shilu's background is in sales, so she knows how to listen to her clients and give them what they are looking for.
Patsy Smith Wyant
(386) 846-5038

Patsy@PatsySmithWyant.com
REAL ESTATE DESIGNATIONS
CIPS, GRI, AHWD, RSPS, MRP, TRC
CAREER PROFILE & ACHIEVEMENTS
• Awarded the Daytona Beach Area Association of Realtors Honor Society 2008-2019
• Awarded the Florida Realtors Association Honor Society 2009-2018
• Awarded NAR REALTORS Own It Coin in 2018 which

…

Read More

represents appreciation as leaders committed to serve
• Awarded Small Business of the Year by US Ambassador in The Gambia, West Africa 1998

PROFESSIONAL EXPERIENCE
Licensed Florida Realtor – 1996 – Present
Member of National Association of Realtors, Daytona Beach Area Association, Florida Realtors Association, and the International Consortium of Real Estate Associations
Manager – Across Borders School of Real Estate – 2008 – Present
Coordinated NAR and REBAC classes in 8 countries, 6 states, and 33 Associations
Attended, consulted, and delivered presentations to real estate agents and Realtor attendees in Thailand, Greece, Slovakia, Manila, Malaysia, Jamaica, Costa Rica, Dubai, and United States.
Realtor – 1st Global Realty (2019) Wyant Realty International (2001-2019) Ormond Beach, FL
Sales and property management of Intracostal and oceanfront luxury properties–homes and commercial properties.

COMMITTEES
National Association of Realtors
Global Business and Alliance Committee – 2019, 2018, 2016
CIPS Advisory Committee – 2017
Daytona Beach Area Association of Realtors
Board of Directors– 2008-2010
International Council 2008-2017 Founder and Chairman
Education Committee 2006-2012 Chairman and Vice Chairman
Professional Standards – 2010 – 2012
Grievance Committee – 2012 – 2016
Florida Realtor Association
Global Business & Alliance Committee – 10 Years
Global Networking Forum – 9 years
Resort and 2nd Home Committee – 4 Years
Professional Development Committee – 2 years
Faculty Development Sub Committee – 3 years

EDUCATION
University of Kentucky – 1974 -1978, Eastern Kentucky University – 1974, Cumberland College – 1973

Close