New Smyrna Beach, Volusia County
New Smyrna Beach is a city in Volusia County, Florida. The city is located at 29°1'33"N and 80°55'37"W. According to the United States Census Bureau, the city population was 23,658 persons. As of the last census, the median income for a household in the city was $52,261. Please visit the city page at my website and you'll be able to see all real estate data and detailed New Smyrna Beach statistic.
know more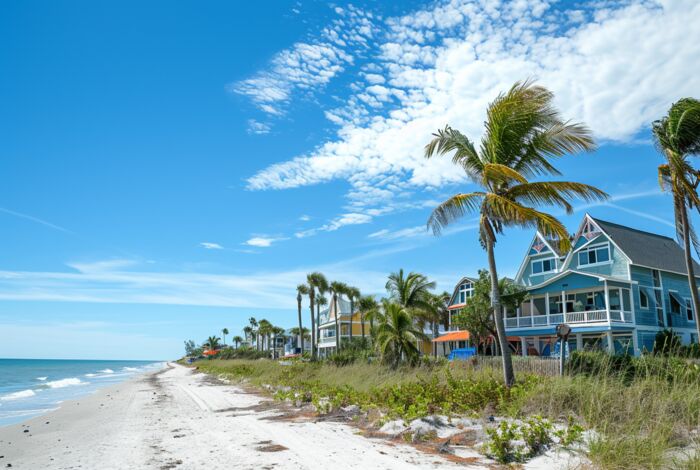 What's trending now in the market
Ben Carson talks Opportunity Zones, top...

by

TRD Staff

on 2019-10-17 at 5:30 PM

Every day, The Real Deal rounds up South Florida's biggest real estate news, from breaking news and scoops to announcements and deals. We update this page throughout the day. Please send any tips or deals to tips@therealdeal.com This page was last updated at 5:30 p.m. Secretary of Housing and Urban Development Ben Carson talks Opportunity Zones and… ants. Carson spoke at The […]

Unrealistic pricing bogs down Miami luxury condo...

by

By Francisco Alvarado

on 2019-10-17 at 4:30 PM

The Miami luxury condo market remains in a rut due in part to sellers overpricing properties, according to top residential real estate brokers. "If you look at the market today, even though there has been an increase in prices, there is also an increase in days on the market," said Oren Alexander, co-founder of Douglas Elliman's The Alexander Team. "That has a lot to do […]

Ben Carson on how Opportunity Zones are unlike...

by

By Keith Larsen

on 2019-10-17 at 3:30 PM

When talking about federal Opportunity Zones, Secretary of Housing and Urban Development Ben Carson said you need to understand ants. And use them as a cautionary tale. On the whole, ants work well together and are "sophisticated" and "industrious," said the former neurosurgeon, during prepared remarks at The Real Deal's annual Showcase & Forum in Miami's […]
3 Reasons This is NOT the 2008 Real Estate Market

by

simplify

on 2019-10-17 at 6:00 AM

Today's real estate market is nothing like the 2008 market. When an economic slowdown happens, it won't resemble the last one. No one knows for sure when the next recession will occur. What is known, however, is that the upcoming economic slowdown will not be caused by a housing market crash, as was the case

3 Reasons to Use a Real Estate Pro in a Complex...

by

simplify

on 2019-10-16 at 6:00 AM

If you're searching for a home online, you're not alone; lots of people are doing it. The question is, are you using all of your available resources, and are you using them wisely? Here's why the Internet is a great place to start the home-buying process, and the truth on why it should never be

Be on the Lookout for Gen Z: The Next Generation...

by

simplify

on 2019-10-15 at 6:00 AM

Gen Zers are the next generation of homeowners, and they're eager to jump in and buy their first homes. Whether you are part of this generation or any other, it's never too early to start saving, so you can reach your homeownership goal sooner rather than later. You've likely heard a ton about Millennials, but
I know everything about Real Estate. Contact Me!
Marisa Gillman-Denton, BROKER
1st Global Realty of Florida
340 S Beach St, Suite 120, Daytona Beach, Florida 32114
#YouDescribeItWeWillFindIt
"With Passion and Dedication I will find you the Perfect Home!"
Marisa Gillman-Denton
(386) 957-4388

1stglobalrealtyofflorida@gmail.com
Passionate about finding the perfect home for every client , her extensive International experience and knowledge of different cultures and the needs of families, retirees and people wanting to relocate , allied with her CIPS (Certified International Property Specialist ) and RSPS (Resort & Second Home

…

Read More

Property Specialist) Realtor qualifications , she is committed to her mantra of . "With Passion and Dedication I will find you the Perfect Home ! "
Marisa was born in the UK to a German father and English mother , educated in England and Switzerland, and spent her early career in Hospitality and Hotel and Resort Management in the UK, Europe, the Caribbean and Africa . In Africa she changed career direction and became one of the Top 15 managers in Africa for Tupperware. Relocated to the USA in 2007 and has since become committed to success in the Real Estate field of business. Marisa is the proud Owner/Broker of 1st Global Realty of Florida.
Marisa is also a proud mother of three daughters and grandmother to 5 girls and 2 boys and has been married to John for 33 years.

Close
Judy Visnic
(386) 846-5839

JudyVisnic@live.com
I have been a licensed and full time Realtor® for 23 years, working in an office that is extremely active in the REO market.
I am knowledgeable of the area and local Real Estate Market trends, and am Pro-active in marketing and moving property

…

Read More

. I, too, work with investors who often have a "ready pool" of funds to purchase these types of investments.
PRO-ACTIVE AND PROFESSIONAL, I DO MY WORK, KEEP MY WORD, AND KEEP MY CUSTOMERS HAPPY.

Close
Shilu Dodani
(386) 451-2941

SrDodani@yahoo.com
Born in India and raised in the UK, Shilu first came to Florida in the late 1970's and put down her roots in Daytona Beach. She had her children here and considers Daytona her home. Shilu's background is in sales, so she knows how to listen to her clients and give them what they are looking for.
Patsy Smith Wyant
(386) 846-5038

Patsy@PatsySmithWyant.com
REAL ESTATE DESIGNATIONS
CIPS, GRI, AHWD, RSPS, MRP, TRC
CAREER PROFILE & ACHIEVEMENTS
• Awarded the Daytona Beach Area Association of Realtors Honor Society 2008-2019
• Awarded the Florida Realtors Association Honor Society 2009-2018
• Awarded NAR REALTORS Own It Coin in 2018 which

…

Read More

represents appreciation as leaders committed to serve
• Awarded Small Business of the Year by US Ambassador in The Gambia, West Africa 1998

PROFESSIONAL EXPERIENCE
Licensed Florida Realtor – 1996 – Present
Member of National Association of Realtors, Daytona Beach Area Association, Florida Realtors Association, and the International Consortium of Real Estate Associations
Manager – Across Borders School of Real Estate – 2008 – Present
Coordinated NAR and REBAC classes in 8 countries, 6 states, and 33 Associations
Attended, consulted, and delivered presentations to real estate agents and Realtor attendees in Thailand, Greece, Slovakia, Manila, Malaysia, Jamaica, Costa Rica, Dubai, and United States.
Realtor – 1st Global Realty (2019) Wyant Realty International (2001-2019) Ormond Beach, FL
Sales and property management of Intracostal and oceanfront luxury properties–homes and commercial properties.

COMMITTEES
National Association of Realtors
Global Business and Alliance Committee – 2019, 2018, 2016
CIPS Advisory Committee – 2017
Daytona Beach Area Association of Realtors
Board of Directors– 2008-2010
International Council 2008-2017 Founder and Chairman
Education Committee 2006-2012 Chairman and Vice Chairman
Professional Standards – 2010 – 2012
Grievance Committee – 2012 – 2016
Florida Realtor Association
Global Business & Alliance Committee – 10 Years
Global Networking Forum – 9 years
Resort and 2nd Home Committee – 4 Years
Professional Development Committee – 2 years
Faculty Development Sub Committee – 3 years

EDUCATION
University of Kentucky – 1974 -1978, Eastern Kentucky University – 1974, Cumberland College – 1973

Close